My sister, Shauna, and her husband, Payson, arrived in Whangarei on Easter Friday from Christchurch.  They had been in New Zealand for a few weeks already and had toured much of the country.  Fortunately, along with a few bottles of delightful wine, they brought excellent Indian Summer weather with them!
On Saturday morning, we scurried around to the farmers' market and grocery stores to do last minute shopping before we cast off the dock at Whangarei Marina.
Our first anchorage was leisurely 2-hour motor down river at Urquhart's Bay.  It is a pretty spot with a nice hike through grazing lands to a beach facing east.
The next morning, we headed out past Whangarei Heads at slack and turned north.
For our next overnight, we chose a harbour called Whangaruru.
We motored around the bay and decided on a spot quite far from beach due the shallows.  We took the dinghy ashore and walked across a narrow section of the peninsula to check out another east-facing beach called Bland Bay.
The next day we moved up the coast and around Cape Brett.  Two lines were out and we got a strike!
Next stop was Paradise Bay on Urupukapuka Island.  The Department of Conservation maintains the island as a park.  It has extensive hikes and beautiful vistas from a top the hills.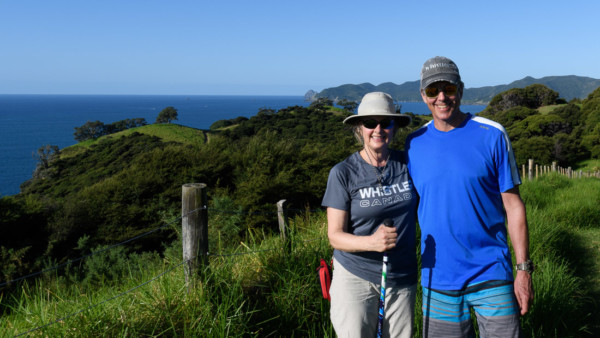 Our dinghy engine had not been happy.  Monty determined it was low on oil, despite having a check up last October when we got back.  The oil that was used was different from the oil we had on board so we motored over and docked at Bay of Islands Marina to procure more oil. Shauna and I did another run to the grocery store in Paihia.  Mid-day, we headed back down the river to Motuarohia Island (also known as Roberton Island).  There was another short hike through DOC parkland to a "Pa" (Mauri fortification and lookout) with glorious views of the Bay.  In the morning we had a frenzy of splashing as fish jumped in every direction across the bay.  A school of something was hungry!  We also had a brief visit from NZ Customs enquiring about how long we had been in NZ.  Their new boat can go 45 knots, so you don't want to try to out run them!
Captain Cook first landed on this island when he arrived in the Bay of Islands. There is an aptly named bay called Cooks Cove around the corner from Twin Bay where we anchored for the night.
From Roberton Island we ventured over to Omakiwi Bay for a nice sunset perspective.
Ashore for another walk, we came across an interesting graveyard.
We visited Moturua Island for a day.  It is again mainly a park with lots of trails. We walked through a manuka forest from the western anchorage called Waiwhapuku Bay, as known as Army Bay, to Mangahawea Bay on the eastern side.
We did have fantastic weather, though mostly calm.  On two of our outings, we had enough wind to do some sailing!  I think they enjoyed seeing Whistler as a sailboat as opposed to a motor-home! We also were treated to some dolphins playing on our bow.
Back on the dock at Bay of Islands Marina, we went for a stroll toward Paihia for some exercise.
The next day, we rented a "rent-a-dent" and drove north to see Kauri Cliffs Golf Resort. It is not in our snack bracket, but we were allowed to have tour of the main lodge and do a look-see in the proshop.
We had a wonderful time with S&P on Whistler!  We are so glad they made it to NZ and that we had a chance to cruise together in the Bay of Islands!