We decided to take advantage of an improving weather forecast and do a land tour of Uvea, the main island of Wallis. Muddling through in French with the rental agency, we booked a small SUV for a Saturday. We invited Kat and George from Scoot to join us for the day.
Wallis has no tourist office or official tourist map. The rental car agency provided a crude map which outlined the roads, location of gas stations, hotels and restaurants but no points of interest. The Lonely Planet South Pacific guide devotes less than two pages to Wallis & Futuna and there is very little information available online. A decent map was posted by the wharf but, sadly, we could not bring it with us!
Leaving our boats at first light around 6am, we dinghied ashore. The goal was to get to the Saturday produce market which opened at 530am.
Variety was not great, nothing like Savusavu or Neiafu, but we came away with papayas, pamplemousse, bananas, a small head of lettuce, a few little round eggplants and star fruit.
The early morning effort was worthwhile. The local produce was better quality and cheaper than the imported produce at the grocery stores. Most locals have their own gardens and do not rely on this little market or the grocery stores for their produce.
Wallisian houses were generally modest, painted in a variety of colours, often oddly paired, like mauve and orange. On the whole, properties were well maintained with colourful tropical shrubs lining the road. Adjacent to many houses stood coconut, banana, breadfruit and papaya trees. Roosters, hens and chicks ran around unfenced, as did pigs.
Lots of dogs were roaming the streets, sometimes in packs. They looked healthy enough and were, in general, not aggressive.
The next stop was at the main bakery near the airport. They produce and distribute all the baguettes and pastries to the stores around the island. We bought a half dozen warm mini-croissants ($0.50 USD/each), baguettes ($1 USD) and a couple custard flans ($2.50USD). The French-speaking clerk was very excited to see tourists and offered us an extra flan "gratuit"! Since we hadn't eaten breakfast, we all gobbled down the flans as we continued our tour. Delicieux!
In search of a coffee, we drove to Restaurant Bord de Mer, situated at the northern corner of the island. After doubling back, we found it tucked in behind some trees, along the waterfront. Wallisians are not big on signage. With virtually no tourism and such a small population who knows where everything is, why bother hanging a sign? The restaurant was setting up for a private party so they could not accommodate us for coffee but kindly allowed us to use the facilities. At least we had the croissants to sustain us! 
We carried on, driving south along the western side. The road swung inland. About mid-way down the island, the road became rough and narrowed to one lane. The tire ruts and puddles were getting deeper. Thick jungle-like bush and vines lined the track. We had an all-wheel-drive vehicle, but it looked too rough to continue. The map indicated that, a bit further on, the road was RESERVE AUX VEHICULES 4X4.
A circumnavigation of the island on the 35 km main road network was not looking practical. Being stranded on this isolated back road was not appealing so we turned around. We followed the route back across the island to Mata-Utu, the main town.
We had heard from another cruiser there was a restaurant with free wifi near the hospital. We stopped at Maloccino and ordered 'cafe au lait' and downloaded our emails. Cruisers love free wifi! The restaurant had great coffee and beautiful flower arrangements.
After our coffee, we headed south. We diverted off the main road to check out the Baie de Gahi, pronounced Nahi, as a possible anchorage. As we drove along the shore, Ben, the only kite instructor on the island, noticed us. With a foiling kiteboard under his arm, he waved us over. We had been in touch with him by email asking questions before we decided to come to Wallis. Since arriving, we had been trying to reach him to get some information about where to kite, but he hadn't responded. He explained he had been busy with clients. He invited us to follow him in his truck up to his house. He had a marvellous view of Faioa Island from the top of the hill.
With his young daughter under his arm, he took the time to show us some good anchorages and kiteboarding spots on Google Earth. He also pointed out a few points of interest for our land tour.
High on our list was Lac Lalolalo, the largest crater lake in the South Pacific. A rough road led to a viewing platform overlooking the lake. The edge of the lake appeared inaccessible as it was surrounding by 60 foot high cliffs.
The next stop was a Tongan fort called Kolo Nui, built around 1450 during the expansion of the Tu'I Tonga Empire. It was constructed of basalt and covered several hectares. Efforts to partially restore it had been made.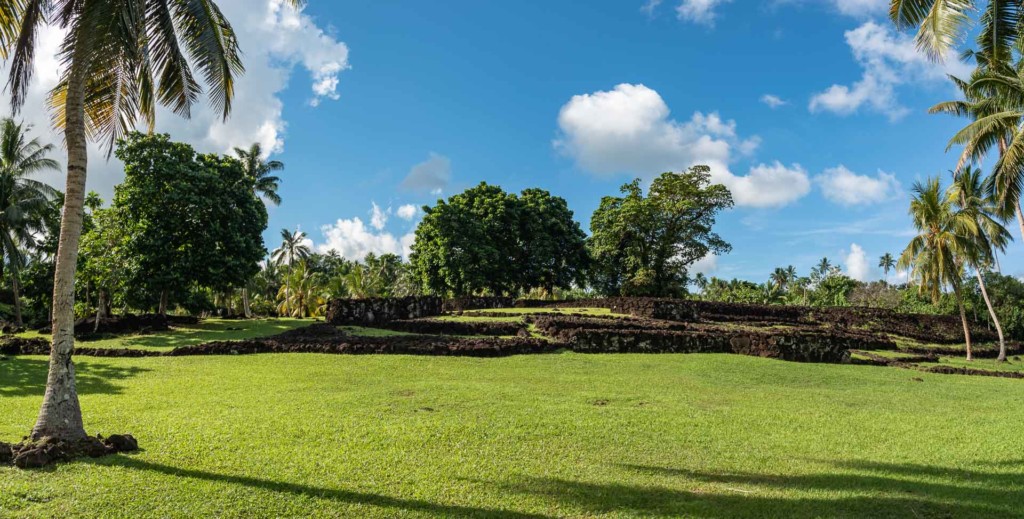 We were informed that other historical sites, including other Tongan forts and a large cannibal pit are not accessible at this time. Developing tourism in Wallis is a not easy. All land is owned privately and some locals are resistant to allowing access to sites through their property. Quel domage!
Wallis has almost too many churches to count. Here are a few highlights.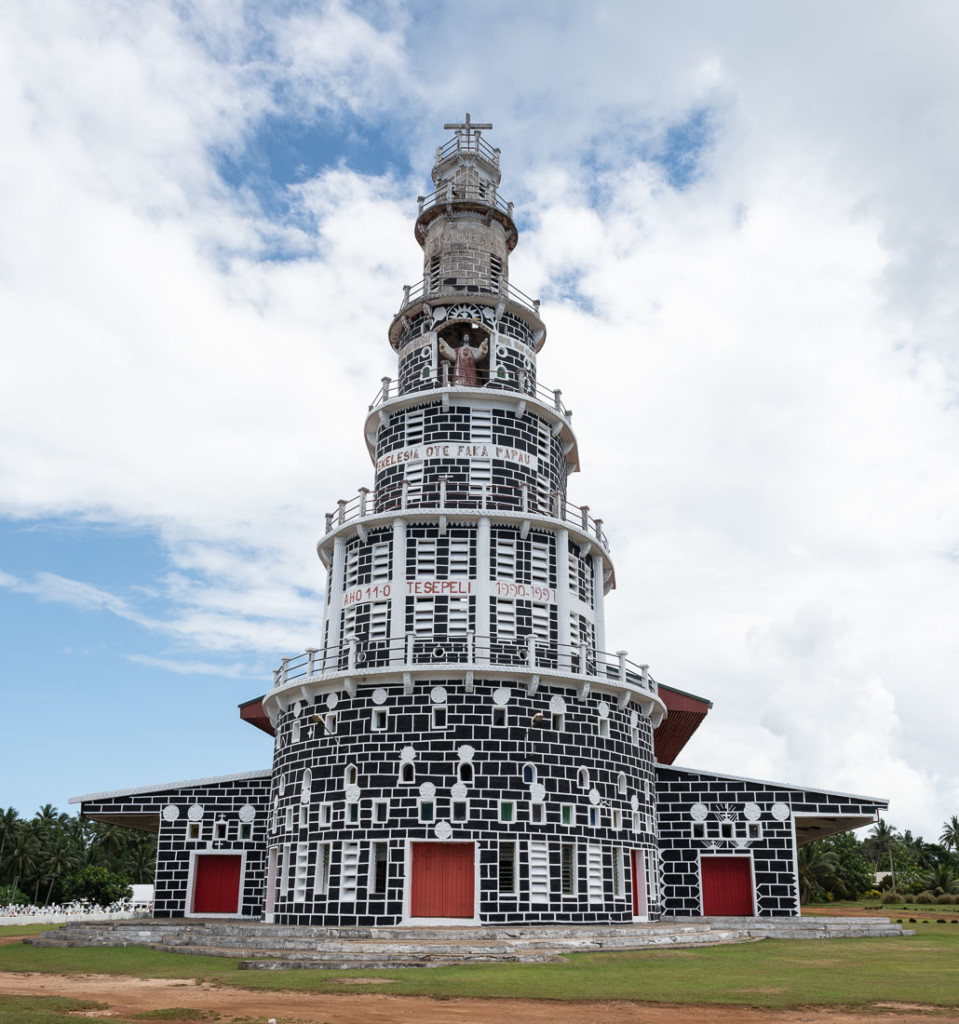 Below is Cathedral of Our Lady of Assumption, also known as Mata-Utu Cathedral. It is the home of the Diocese of Wallis.
On the way back, we stopped to fill the gas tank at the only station open on Saturday afternoons. In the convenience store, we were excited to see fresh bokchoy was available. We grabbed a bunch as did Kat and George. They reported later that the caterpillars beat them to the bokchoy! We were luckier and made a couple stir-fries with ours.
The last destination was the SEM Supermarche. The store had recently moved up the road from its old location near the port. It meant a 20 minute walk, an inconvenience for us visiting yachties. We wandered the isles and picked out a few items. At the check out, Kat and George realized their chosen head of cabbage cost $15USD. It was promptly returned! A couple NZ rib-eye steaks cost about the same amount!
In 8 hours, we covered most of Uvea. Had we spent more time researching on Google Earth, or been armed with a better map, we could have visited more points of interest. Regretfully, we missed Mont Lulu Fakahega with a panoramic view and the Museum of American World War II Artifacts. Wallis had more to offer but it took some effort to find it!
Coming soon, we attend a festival and continue to search for a kite spot while waiting for the trade winds to return.