Not everyday, but as we approached Latitude 25, and again between Minerva and Tonga, we had some squally conditions. It took our full concentration, watching the skies and radar to try to anticipate their path and maneuver around them. Generally they moved east to west.
Here are some photos of the skies, compliments of the squalls.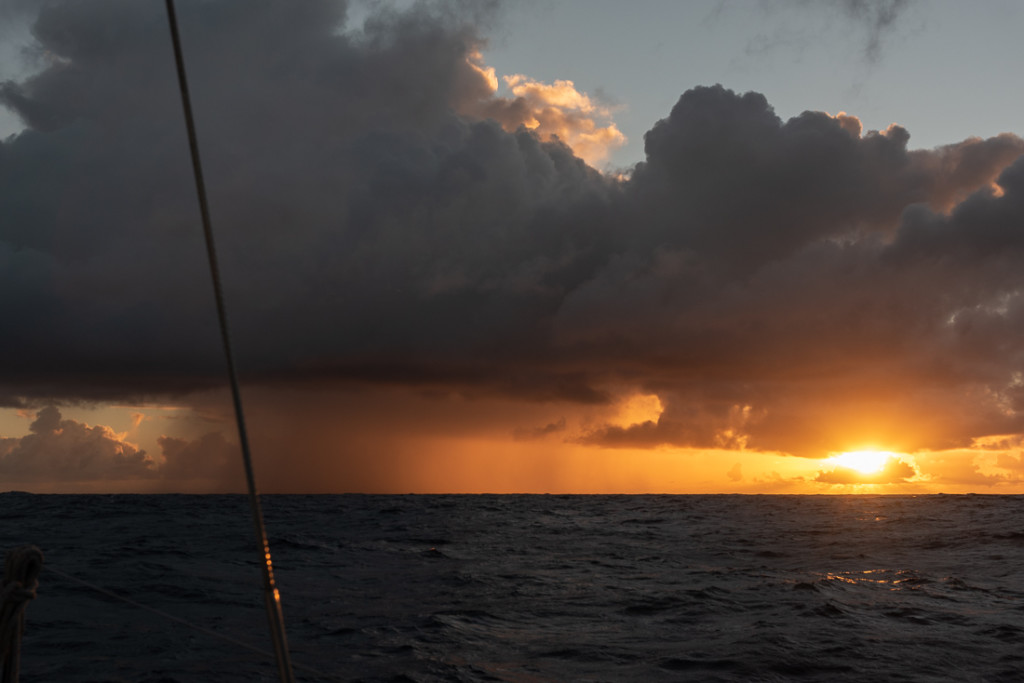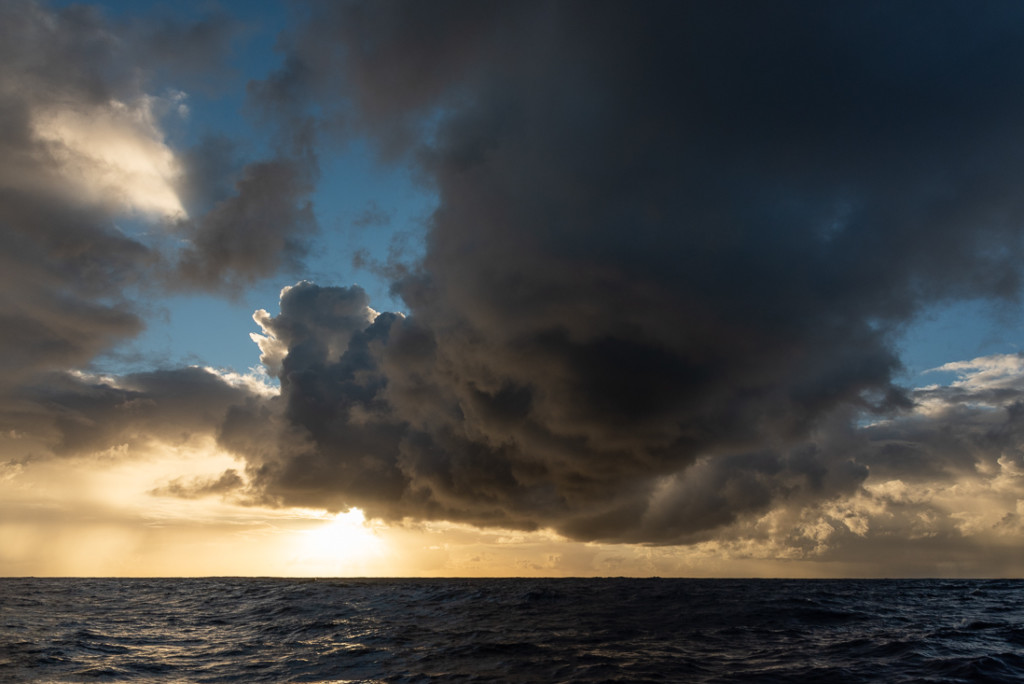 If we could not avoid the squall, it would hit us like a freight train with gusts up to 30+ knots and torrential rain. The wind roared and howled as we sat on watch at the helm. The winds would then back (rotate anti-clockwise) and normally die away, leaving our sails flogging and the boat headed in the wrong direction! It was critical to stay alert. At times we had to turn on our engines and motor till the wind filled our sails again.
On the way from Minerva to Tongatapu, following the passing of a large squall, the wind switched by more than 90 degree from the ENE to NW. We had our autopilot on Windvane mode so we would not jibe or tack. Whistler was now sailing toward Australia! Our VMG (Velocity Made Good to Waypoint) had turned negative! We quickly furled the genoa, turned on the engines and got going in the right direction again! Eventually, the winds came around again, but that was a really amazing squall. Later we noticed Midnight Sun on the AIS was heading south, in the opposite direction. They had a similar experience with the squall and had to start their engines too. We all laughed about it later on the VHF but it was a bit of drama none of us needed.
As we were sailing the genoa, some of the clears for our enclosure were removed or unzipped, so the wind whistled through the cockpit. At night, especially, we wore long underwear, down jackets and toques. I had packed a couple Nicklaus North Golf Course toques, ones we used to wear golfing in the "shoulder season". They came in handy!
Other than a few restless nights due to squalls, we had a good "sailing" passage. Thanks go to our weather router, Bruce Buckley, Peter Mott on Northland Radio and David & Patricia on Gulf Harbour Radio. A special word of gratitude to our friends and family who followed us and made the effort to stay in touch. We really appreciate getting an email or text while alone on watch, in the dark, hundreds of miles from anywhere!