Just catching up on posts! Please forgive us for the long drought!
In September, Jimmy DeMarco, our friend from Whistler/La Ventana, came for a visit in Fiji. Kite-surfing and surfing at the world famous spots, Namotu, Tavarua and Cloudbreak (all close to Musket Cove, Fiji) had long been on his bucket list!
In advance of Jim's arrival, we scoped out anchoring off Namotu and Cloudbreak.
Both were beautiful spots. At Namotu, it was dicey, finding a place to drop the hook with other boats jostling for spots in the small sandy anchoring area. It took us a few tries to find a good spot not too close to the other boats. However, as the tide rose, waves made it over the protecting reef by Namotu and slammed us beam-on. Untenable!
At Cloudbreak, we were warned about coral heads by a friend boat as we looked for a place to anchor. We were a long way from the surfing area, so viewing the surfing from the anchorage was impossible. Transporting surfers to the break would have been challenging, especially in a dinghy like ours. As we sat at anchor, the wind picked up to 20 knots, so it was not a place we could get a good night's sleep. We decided Whistler was better off on a mooring in Musket Cove, playing "hotel on the water".
Around the same time, John Smart from Whistler was in Fiji, looking to share some time kite-surfing time with Jimmy. Our boat couldn't accommodate the two guys and all their gear, but it seemed to all work out. John found a place to sleep in Musket Cove. Erin, an old friend of Jim's, took them out surfing every morning. In the afternoons, John and Jim hired a skiff to take them to Namotu Island so they could kite-surf in the waves.
Erin and her boyfriend, Peter, hosted us for delightful dinners a couple times at their spectacular house on a hill overlooking the Musket Cove anchorage. Talk about 360 degree views!
Monty and I went kiting at our familiar Sandbank near Musket and hung out with the boys in the evenings.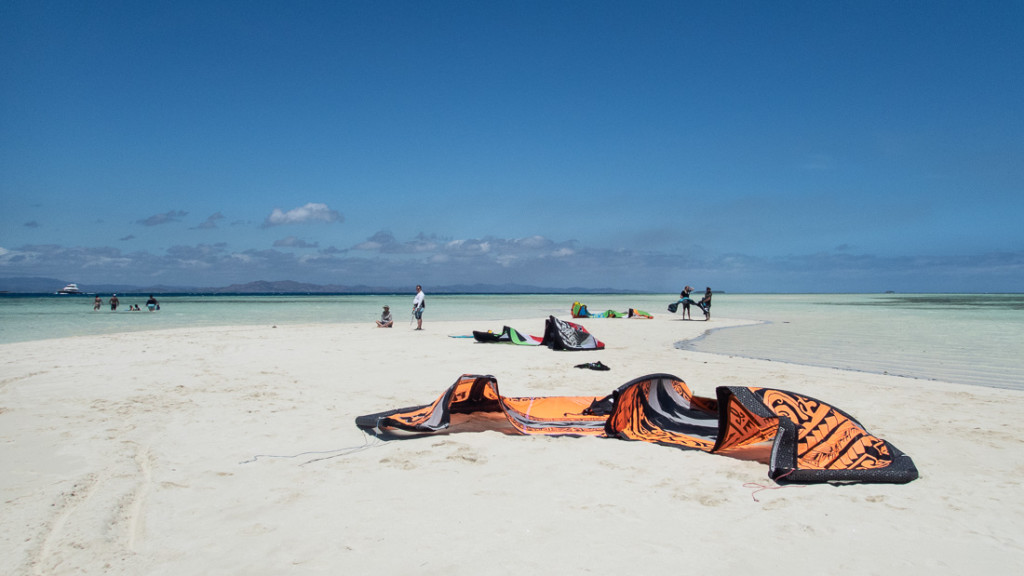 One morning, I tagged along on Peter's boat to "Restaurants", a surf spot off Tavarua. Here are some shots of the guys surfing.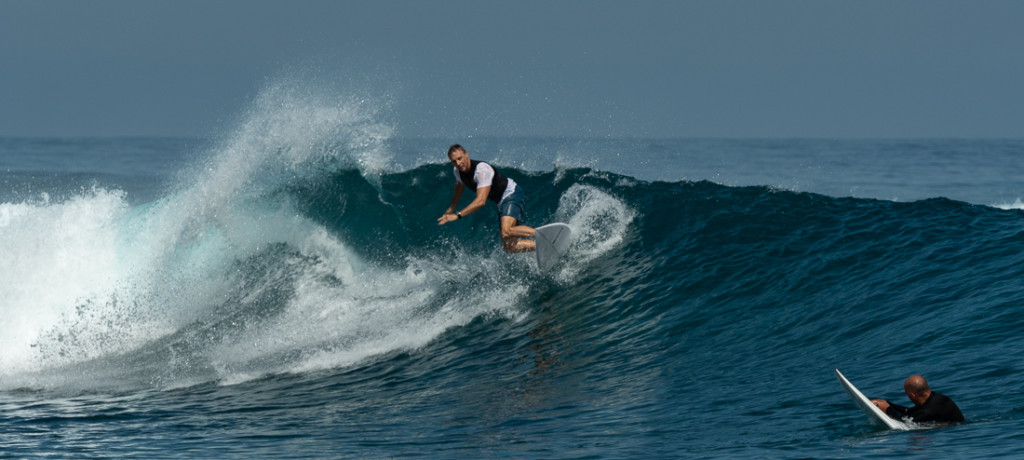 After a week at Musket Cove, winds were dying and supposed to crank at Nananu. So we took advantage of a calm day and motored back to Nananu-I-Thake. It was a rare all-day passage for Jim. He had come down with a cold and needed a day off surfing and kiting anyway! Once we got there, the winds picked up and were almost too strong for kiting but we weathered the gusty winds, showers and chopping seas.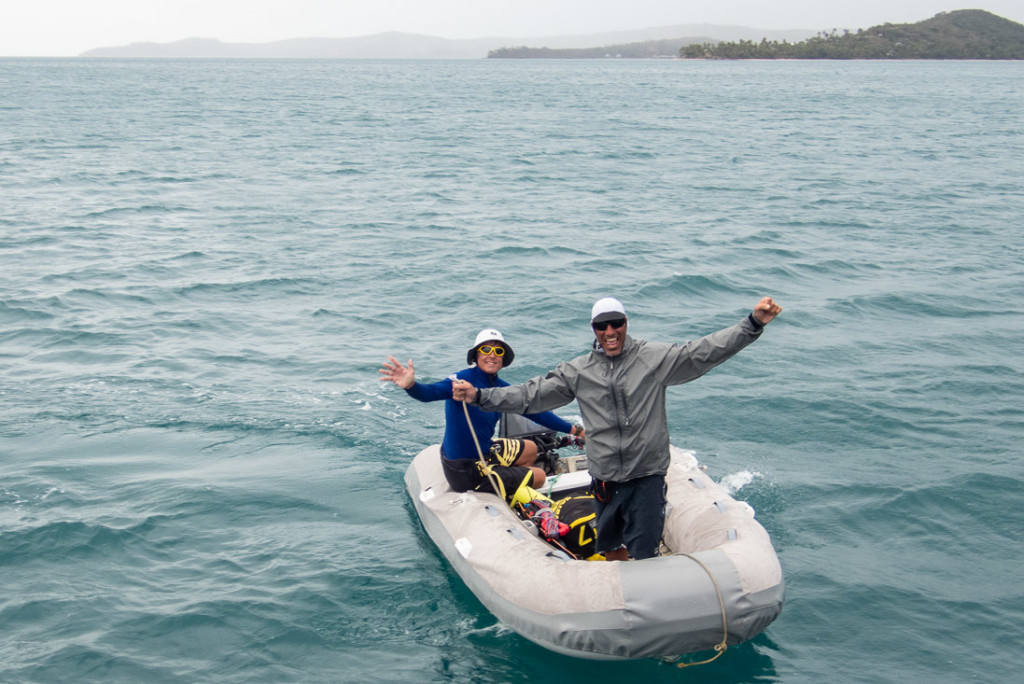 When Jim had to go ashore to get a taxi to the airport, the winds were blowing about 25 knots and the seas were very choppy. Fortunately for the luggage, it was a downwinder. I decided to let Monty take him. As you can see, there wasn't much room for me!
Monty had a long struggle motoring the dinghy the mile back upwind. It was almost comical, but I dared not laugh, watching the nose of the dinghy bashing up and down against the metre high waves.
Next up, preparing for passage back to New Zealand and watching for a weather window. Please stay tuned!