We anchored Whistler off the Jean-Michel Cousteau Resort. It was a nice anchorage, with 5-star resort views!
We noticed the weather was much better at Cousteau than in town too.
Fortunately, the resort's dive operation treated us yachties very fairly and their dive operation appeared first class!  We signed up for a 2-tank dive.  We didn't want to leave our dinghy on the beach in varying tides while we were out diving. The dive shop manager said we could tie it up to their wharf and they would keep an eye on it.
It was a nice day and not too windy or rough. They took us outside the reef to Wall Street where we saw a turtle, soft purple corals, numerous fish and a nudibranch. Our guide, Taks, tapped his tank with his pointer to get our attention and pointed out different species. He also wrote on his water-compatible slate what species we were looking at. It was like a fish identification or underwater naturalist course. Sorry, no photos.  As we were getting experience with our dive gear, I didn't take a camera along.
On the second dive just inside the reef, at Golden Nuggets, we saw schools of long-jawed mackerel, fusiliers, anthers, trumpetfish, suckerfish, scorpion leaf fish, pipe fish, garden eels, etc. The site is named for its beautiful golden soft corals that cover a wall.
The next day, we signed up for two more dives. One was called Alex where we saw a white tip shark, bubble coral, magic coral, a crayfish and more fish.  At Brothers, we saw golden soft corals again and lots of fish.  My note taking needs some work!
On the third day, it was calmer, so they took us outside the reef to Big Blue, a pinnacle some distance offshore.  We saw a large Napolean Wrasse, a turtle, a Spanish mackerel and the usual colourful coral and reef fish.
A large group of keen divers from the US came to use the diving facilities.  They were all on the board of Coral Reef Alliance, a non-profit focussed on saving the coral reefs around the world.  They took up most of the spots on the two dive boats.  The resort had a trip to Namena planned. The CRA had done some work on conserving the reefs at Namena years back and wanted to see their condition after cyclone Winston had raged through the area. A fuel surcharge and park fee were added to the cost of the dives but we couldn't turn down the opportunity to go with them to this renowned dive mecca.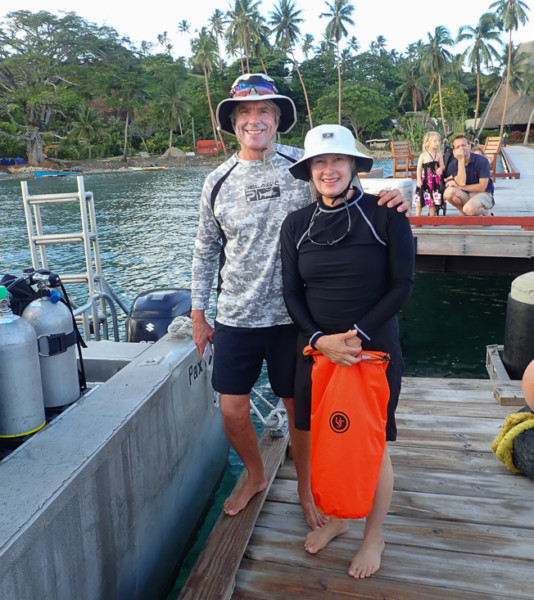 It was a rough 50 minute trip, with us all hanging on. Our captain, Vitale, handily manoeuvred the dive boat at 30kt/hr through the metre+ high waves. I will post some video soon!
They took us to two sites, Chimneys and Manta Mount.  We got to see another Napolean Wrasse, lots of interesting fish, corals and a few sharks but no manta rays.
We wanted to gain more knowledge and diving experience.  You know me, always taking courses! By this time, the Cousteau staff had earned our confidence.  They were very professionalism, so we thought there was no better place to take our Advanced Open Water Certification. The pricing was almost the same as doing five 1-tank dives and five dives were included with the instruction.
Our first dive was a Deep Dive (requirement of the course) at Dreadlocks, in Savusavu Bay.  We descended to the goal depth of 30m and then took our time on the way up seeing lots of colourful soft and hard corals and fish.
We jumped on the boat for another long trip to Namena. When in Spain…
Our Drift Dive (an optional dive for the course) was at Grand Central Station. White-tip and black-tip sharks, barracuda, jacks, coral, Christmas tree worms and lots of fish were spotted. Our 3-minute safety stop at 5m had us surrounded by numerous beautiful reef fish.  No fishing is allowed in the marine park so the fish were plentiful and less skittish.
For our third dive, we chose Peak Performance Buoyancy (another optional dive).  During this dive, we worked on proper weighting, trim, buoyancy adjustment and streamlining. (That list came from our text book!)  We dove at Tetons/Blue Ribbon.  Notable were a lion fish, more reef sharks, titan triggerfish, and black-saddled grouper.
We broke up the course going to Paradise Resort on Taveuni Island with our sister boat, Golden Glow.
Monty's birthday, so we had planned to go to the resort for dinner, but a squall with high winds hit us that evening, so we stayed onboard and had a low key celebration.  The next day, Monty went diving with the resort while I nursed an ear infection.  He dove the White Wall and Rainbow's End on the famous Rainbow Reef.
We returned to Savusavu to complete our diving course. Navigation Dive (required) and Night Dive (optional) were both at Golden Nuggets. Kinni, our instructor, worked with us on using a compass during both dives. We used the Navigation Dive to become familiar with the site for our Night Dive.  Some species are more active at night than in the daytime, some are sleeping. I felt comfortable enough to carry my Olympus camera (with housing) on the Night Dive. Here are a few shots, though we found out when you shine a strobe on the subject, the camera isn't able to handle the extremes of light and dark.  Always learning!
In between diving days, we enjoyed some snorkelling around the Cousteau anchorage.  The resort has a few moorings we could tie our dingy to. We saw lots of cool stuff snorkelling. Monty also practiced free-diving.  Though the water was often murky due to the strong currents and sand from the reefs, here are some photos to give you a taste of what we experienced snorkelling.
From time to time, we motored back into town to meet up with friends and provision. It is just 3 miles away, so it is pretty convenient.
We will leave you with some scenery from the Cousteau Anchorage.
Having finished our course, we were free to move on.  Where to go next?