We departed Opua, NZ, on May 1st, 2017.  It was a sunny day, our weather router had given us the thumbs up and we were finally ready for the passage!
Our chart plotters have several different options for displaying information:
Note the set drift of over 2 knots in the wrong direction for us!
It got a wee bit windy and rough for the last three or four days. We took numerous waves over the bow and coachroof. Thank goodness for the high free-board and having most of the cockpit enclosure zipped up. We did take some seasickness pills on this trip, for insurance! When you are double-handing, no one can afford to be sea sick.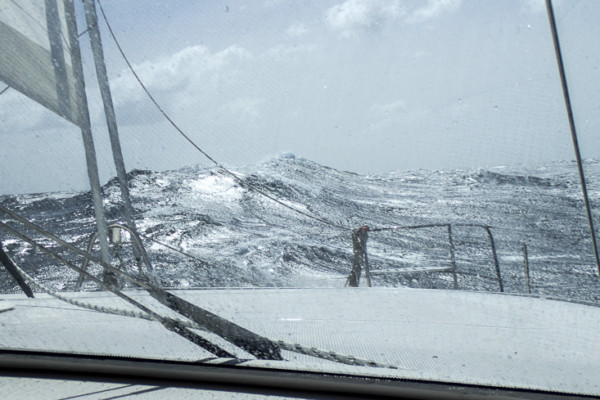 We arrived at our WPT west of Tongatapu before noon on May 8th. We were pleased to make it there in 7 days. After we turned east into the Egeria Channel toward Nuku'Alofa Harbour, we slowed down with 28 knots on the nose and an unhelpful one metre swell. It took us 5 hours to motor 15NM. We were glad to be able to anchor just before dark. Monty quickly brought out two plastic champagne flutes, a bottle of NZ sparkling wine, some cheese and crackers. We were definitely ready for a hot shower, without having to hold on for dear life, and a good night's sleep!
Next up Nuku'Alofa and the check-in process!